Providing a coordinated approach for investors to make market-rate investments to impact California with a focus on underserved communities and families.
Webinar series overview
Philanthropy California and RBC Global Asset Management hosted a learning series to dive deep into pressing issues for residents across California. Each session invites speakers - many with statewide and national expertise - for generative conversations on small business support and economic advancement for low-income workers; COVID-19 recovery and public health, prioritizing support for people who experience disparities in health outcomes; investments in green infrastructure as a tool to combat climate change; and emerging initiatives to build affordable housing that is equitable.
Emerging initiatives to build equitable, affordable housing
RBC Global Asset Management and Philanthropy CA conducted a webinar discussing affordable housing development in the state of California and exploring different investment strategies.
Investment strategies to address climate change in California
RBC Global Asset Management and Philanthropy CA held a frank discussion on the current state of wildfires in California and what it will take to mitigate this trend through scalable investment in support of vulnerable populations.
Investments in COVID-19 recovery and public health
RBC Global Asset Management and Philanthropy CA conducted a webinar discussing how impact investing can help develop public health infrastructure and pave the way for a sustainable and inclusive recovery.
The Purpose of the RBC Global Asset Management and Philanthropy California Collaborative
The Philanthropy California Collaborative provides mission-driven investors a coordinated approach to support high impact projects through market-rate investments in California that focus on underserved communities and families. These projects support affordable housing, job creation and small business growth, increased access to healthcare and education, and related community development measures for populations too often left behind. Investments also support environmental sustainability, which is critical to the creation of thriving and resilient communities over the long-term.
Investing for impact at RBC Global Asset Management
Through the partnership with RBC Global Asset Management (RBC GAM), Philanthropy California participants can invest in high quality, liquid fixed income strategies intended to create positive social and environmental impacts while also seeking a competitive financial return. RBC GAM believes that we can help build stronger communities and build portfolios of high quality securities in an effort to meet investors' needs while increase the flow of capital to designated communities.*
*Philanthropy California participants' ability to designate geographies and/or themes is dependent on the amount of their investment and the vehicle through which they invest.
Disciplined investing with a community development purpose through the Access Capital Community investing strategy
High quality, liquid fixed income investment strategy that primarily holds investments guaranteed by the US government, its agencies or municipalities
24-year track record of delivering social impact and institutional caliber investments; meets Community Reinvestment Act requirements and qualifies as a public welfare investment
Advances social justice in market-rate investments through the creation of customized securities that support underserved people in the US
Builds stronger communities by financing affordable housing, job creation, healthcare, education and infrastructure projects that foster sustainable economic development
Customization available for duration, credit quality, and geographic targeting to underserved individuals and communities, including to BIPOC communities
Contact us
What is Impact Investing?
Our impact team
California Pension Fund helps finance its recovery
RBC Impact perspectives
Geographic summary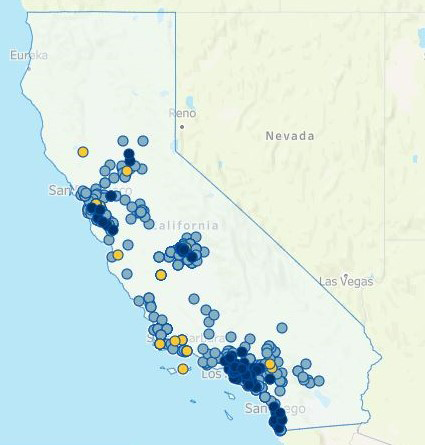 As of 9.30.22 Source: RBC GAM, Tableau
Size of investment location on map is size of estimate current loan amount.
The intersection of financial returns and social benefits
Real world impact
Access Capital has contributed to impact investments in 50 states and the District of Columbia. Highlights include:
■ 21,738 low-to moderate-income home buyers ■ 104,897 affordable rental units ■ 6,071 nursing home facility beds ■ 27 rural properties ■ 101 rural enterprises ■ 1,010 small business loans ■ 145 community economic development projects ■ 17 community‑based not‑for‑profit organizations
Impact investments listed above include investments in all vehicle options for the strategy.
Addressing the needs of California
Homeownership
Owning a home has long been a pillar of the American dream. But would-be homeowners in low-and moderate-income communities are overlooked by the banking industry, even with good credit. RBC GAM's impact investing strategies help low- and moderate-income home buyers access mortgages at prime rates and open the door to their own home.
Affordable mortgages for low-to-moderate income families provide stability, and are a major vehicle for building wealth and economic opportunity.
Rental housing
Across America, rental housing stock is severely limited and often overpriced. 80% of low-income households pay more than 1/3 of their income for rent, leaving less for food, healthcare and education. RBC GAM's impact investing strategies finance affordable rental units, buying first mortgages of multifamily rental units, helping to support renters with income limits, who are further supported by federal, state and housing authority assistance programs.
Small business
and job growth
Would-be small business owners often lack the capital to open businesses that serve the community, like laundry facilities, supermarkets and clinics. RBC GAM's impact investing strategies buy the guaranteed portions of SBA loans to deliver more services to the residents of low- and moderate-income communities and provide more job opportunities within the local economy.
Education
Access to quality education is a key driver of upward socioeconomic mobility and helps to reduce inequalities often found in higher education and the job force. RBC GAM's impact investing strategies support equal access to educational opportunities, including preschools and primary schools, secondary and post-secondary education, as well as access to job skills and training programs. These opportunities are vital to students of all ages as they provide preparation for employment and career development.
Healthcare
Lack of access to comprehensive, quality healthcare services impacts the ability of men, women and children to lead healthy and productive lives. RBC GAM's impact investing strategies invest in a range of healthcare facilities in underserved communities --including nursing homes, community clinics, skilled nursing care and family dentistry --resulting in healthier, more stable and more productive communities.
Environmental
sustainability
Climate change is a global challenge that will have impacts on economies, markets, and societies worldwide. RBC GAM's impact investing strategies support projects that promote the health of the environment, including renewable energy, clean air and water, land preservation, efficient resource use, and environmental remediation.
Solutions for making and measuring impact
| | | | | |
| --- | --- | --- | --- | --- |
| Access Capital community investing | | | | |
| Separate account (≥ $50 million) | Yes | Yes | Yes | Yes |
| Mutual fund3 | At ≥ $100,000 | No | At ≥ $1 million | Yes |
| Impact Bond | | | | |
| Separate account (≥ $50 million) | Yes | Yes | Yes | Yes |
| Mutual fund3 | No1 | No | No | Yes |
| Customized separate account (≥ $50 million) | Yes | Yes | Yes | Yes |